Chapel House Farm, Gilsland
Looking for nearly wild camping
on the Hadrian's Wall Trail?
An amazing place with a real welcome farmer family.
Suicidal Squirrel
July 20, 2022.
Campsite with grand views at working farm with friendly owner.Ideal for Hadrian's wall hikers.
George Novak
June 16, 2022.
Eenvoudig en prettig. Kamperen langs de Hadrian's Wall Path bij een echte boer! Soms wat stenige grond
Eilt Zandvoort
June 7, 2022.
Just like the rest of the reviews detail, Andy and Jane were amazing hosts in response to a last minute phonecall when we realized it was getting too late to push on to the next stop. A much needed and much appreciated place to camp, which was unplanned but epitomised the kindness I was shown by locals and walkers alike along this wall. Thank you
Lee Farrell
June 7, 2022.
FANTASTIC FARM & OWNERS ANDY IS A BRILLIANT BLOKE WILL DEFINITELY BE BACK THERE ON MY SECOND TRIP OF THE WALL HOPE TO SEE USE AGAIN THANK YOU
If I could give 10 stars I would!! After a 15 mile walk then through the Banks wich is basically up hill all the way, I'd hit the wall and felt like I couldn't take another step, so we phoned chaple house farm to see it we could camp there for the night. Worried cos we only had our cards n no cash, he said he doesn't have a card machine... but don't worry we won't turn you away, you can send it through the post if you need to. I just thought omg thankyou so much, cos I could barely take another step my feet were so sore. Then he phoned back and said if you want we can pick you guys up at the village pub, have a beer and somthing to eat and we will drive you and your bags back to the farm. Wich was music to my ears, so that's what we did. Managed get cash back from the pub, cos I didn't like the thought of leaving without paying. And cos it was dark and raining by the time we got there, they said if you want you can sleep in the barn save you getting wet putting your tents up. So that's what we did ? they shown us were the toilet was and said it stays warm in here so dry your stuff out if you need to and there's a plug socket there if you need to charge your phones, we got a few bails of hay from the corner and made propper beds get us off the floor put our sleeping mats down and jumped in our sleeping bags. And if they hadn't already done enough for us, they said... leave your back packs here just take what you need, cos the next bit is the hardest part going through the mountain tops of the pennines, phone us when you get to were you want to camp for the night and we will bring your packs to you!!! When I felt like there was nothing left in the tank they were a shining light for me and the highlight of my walk! Andy and Jane were the most friendly kind and welcoming people I'd ever wish to meet, I loved waking up in that barn to geese gagging sheep barring cows mooing swifts or swallow catching food on there wing to feed there chirping chicks and a little robbing as bold as brass collecting straw to build its nest. Andy n Jane and the stop at there farm allowed me to put my boots back on in the morning and tell myself... yep.. iv got another day's walk in me! And I can't wait to take the kids back in the summer for the night so we can crash in the barn were I stayed and say hello to Andy n Jane. Massive thumbs up guys ??????
Very good walkers campsite. Drinking water aplenty, clean toilets and a choice of fields to pitch in. Very kind, helpful and amenable hosts.
Michael Harvey
September 14, 2021.
Lovely, friendly host, clean toilet, warm drying room, phone charger, loan of chair, several pitching points including private one. No shower. Right on a convenient footpath!
Clare Hutchinson
August 13, 2021.
Very nice!
keith reed
August 9, 2021.
Walkers and cyclists are welcome at our family farm.
? We offer a choice of field pitches for your tent with farmyard toilet/handwash facilities.
? Dog friendly. We love dogs on leads and owners who pick up after them.
?‍♂️ No booking required. Walk-ins welcome.
? We don't cater for parties, caravans, campervans or visitors by car.
? Find us approx 1 mile east of Gilsland and 1.5 miles west of Greenhead. See map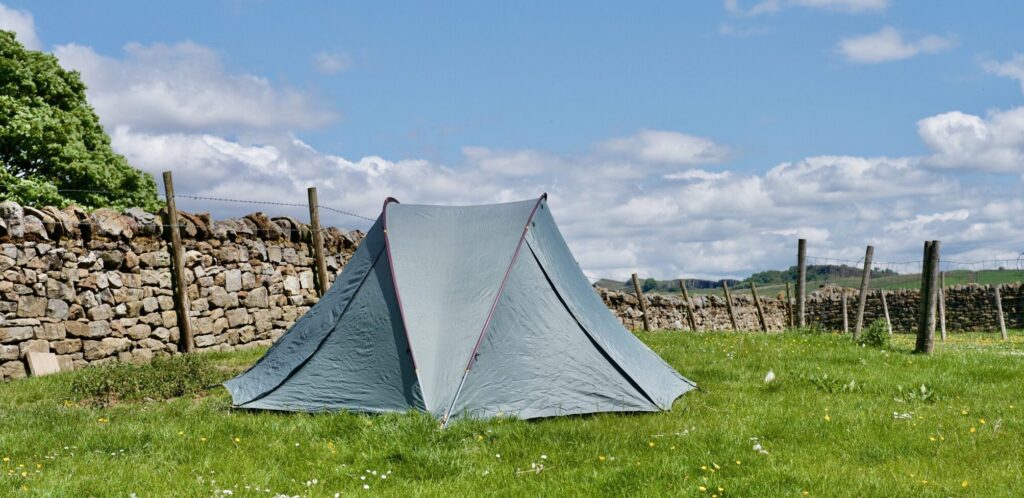 ---
Our pricing
Just £10 per person per night (with no extra charge for dogs)
Find us
Chapel House Farm, Gilsland, CA8 7EL
what3words: ///tracks.florists.spells